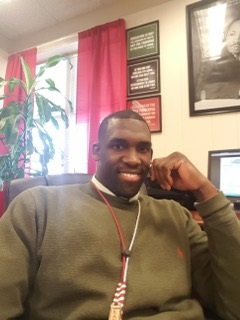 Greetings parents!

Thank you for your support of the staff and students of Robert L. Merritt Jr. High. Because of your support, our students were able to improve academically, receive trophies for their academic honors, and were rewarded for your participation in open house. We are very intentional with instructional practices designed to grow our students and with your help, our students will be successful.
We administer bi-weekly assessments to our students in all tested areas. We use those results to track how well our students performing.
Please make sure your child studies often so he/she will be prepared to do well. Our goal is "Growth For All Students!" Again, we thank you for your support!
One School...One Team…One Goal! Student Achievement
As always, thank you for choosing Robert L. Merritt Jr. High!
Christopher Turner, Principal
---
One School...One Team…One Goal! Student Achievement!
Parent Center Corner, Geraldine Ray
Come on out and visit our Parent Center at RLMJH. The Parent Center is now located in Room #102 By visiting the center you will receive parenting literature and learning tools for you and your child. Our goals are to make a difference in the lives of children and provide support to parents. I am still looking forward to seeing you at workshops. We will have our Parent Walk on Tuesday, January 29, 2019 from 10:00-11:00 A.M. Remember, we have different ways you can be involved in your child education. Such as, Active Parents, Remind, PTO/PTA meetings, school events. In addition, you may volunteer. You may reach me through e-mail at gray@sunflower.k12.ms.us.
My hours are: Tuesday, Thursday, and alternate Friday's from 7:00 A.M. to 4:00 P.M. I will adjust my schedule as needed. "With us plus you, there's nothing our students can't do"!
---
Counselor's Corner
RLMJH presents.....Let's Get Fit! All are Welcome!
Tuesdays & Thursdays 4:15 p.m. – 5:15 p.m.
Zumba, Dance Class, Light Cardio, & Light Weight Lifting
RLMJH Gymnasium
Sponsored by: Dr. J. James, Ms. Carter, & Mrs. Lewis (Please see either of the sponsors for applications).
-- Latoshia Lewis, M. Ed.
---
Academic Coach's Corner
This month's academic focus is to continue to grow all students. In order to meet this goal, we ask that all students be present, positive, and productive at school. Our ELA focus is to cite textual evidence and be able to identify the moral of a story. Our math focus is to be able to determine rational and irrational numbers and solve problems using fractions. Our science focus is on earth science. Our history focus is to be able to cite textual evidence using historical facts and details. We would like to thank you for helping us help your children be successful. Home + School = Success
Thank you for all your support
---